Dissertation assistance and editing provided by a world-class team.
Optimum Research Consulting provides experienced PhD consultants for comprehensive service in a discrete, fast, and personalized manner.
Optimum Research has been helping students with their dissertation needs for many years. Originally based in North Carolina, the Optimum headquarters has relocated to Austin, Texas, where it strives to be the best academic consulting firm for doctoral students completing their dissertation and doctoral studies. Throughout the years, we have refined and expanded our dissertation and thesis help services to provide the most comprehensive support available.  Expert consultants, statisticians, editors, and qualitative analysts can provide you with whatever level of support you require. We will help you overcome all obstacles. 
Optimum Research Consulting
Personalized 1 on 1 service
Graduation becomes effortless
Our Guarantee - Free revisions until acceptance
Comprehensive and custom assistance
Graduate sooner and reduce graduation costs
The research and dissertation team at Optimum Research Consulting will assist you with all your research and dissertation needs. Unlike most companies offering help with dissertations – Optimum specializes in dissertations which lets us have a focused expertise which extends beyond what other firms are able to provide. From the very start of the process, clients have a privileged discreet relationship that is established by a legally binding Non-Disclosure Agreement. Students do not need to disclose Optimum's involvement with anyone else unless they choose. 
Students come to us in many phases of their development. Our help ranges from assisting with your topic development all the way to helping you prepare for your final defense. Our staff is as experienced as anyone in this industry in helping you find those literature gaps in search of your topic. Our experience enables us to find topics that can easily be supported by relevant recent literature. We also do basic dissertation editing, reference audits, and provide substantial help with statistical analysis. Optimum can validate your analysis to ensure it supports your research questions in a way that will minimize issues with the reviewer. From the start you will be assigned a project manager who will be able to assist you in all your concerns all the way to the final defense of your dissertation.
Optimum Research provides assistance on all our work until the student's work is accepted by the institution. Unlike many services who pass off their client's issues, our guarantee means that we provide continued support on all the projects that we assist. Our work follows the required style, whether APA (American Psychological Association), MLA (Modern Language Association), AMA (American Medical Assoc. style), or Turabian. There are many consulting services that write all sorts of papers, and the pricing is straightforward since there are no tailored services. Optimum makes sure to first understand the needs of a client to provide a fair price that will lead to an all around positive outcome for the client. 
Optimum Research Consulting
Contact us today to find out how we can provide a personalized package covering the Comprehensive Exams, pre-dissertation materials, Literature Review, Methodology, as well as providing cutting-edge Qualitative and Quantitative Data Analysis.
Optimum Research Consulting began with a seasoned statistical consultant desiring to use his knowledge to aid others and that's still one of the primary services offered to academic researchers and students. Although Optimum has a strong background in quantitative analysis, we also  provide exceptionally comprehensive qualitative research and mixed methods support. Our team is filled with PhDs who are passionately curious, which leads to quality service.
Optimum provides assistance to students from all types of programs, whether traditional in-person or online. We have a particular strength in online programs. We have experience with all but the smallest of schools. 
The universities of Concordia, Capella, Phoenix, Grand Canyon, Howard,  Walden, Nova Southeastern, North Central, Columbia Southern, Trident and Liberty are all schools we have significant and broad experience with. Your project manager will very often be familiar with the checklists and templates required by your school. We can help you start with your prospectus or research plan all the way to the finish of your dissertation or capstone and the coaching for your final defense.
Optimum has worked with students from the following schools ...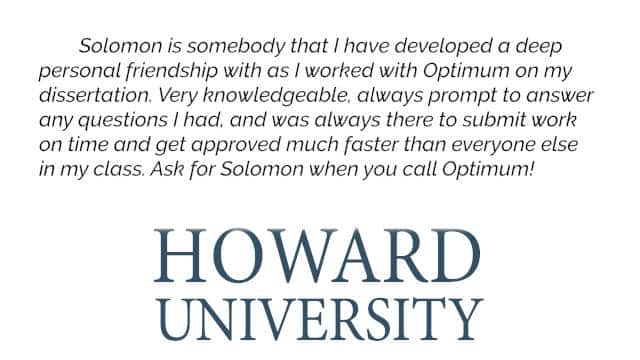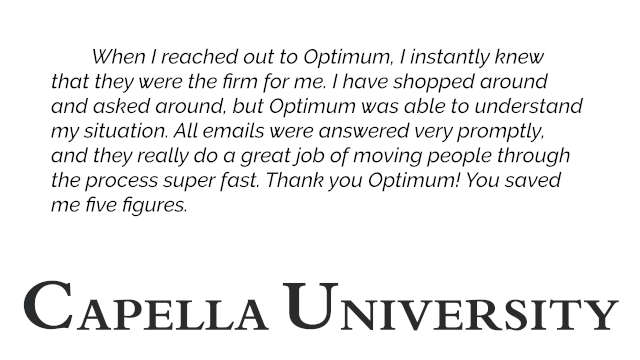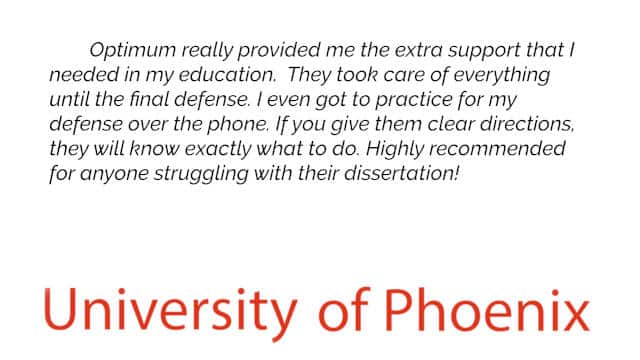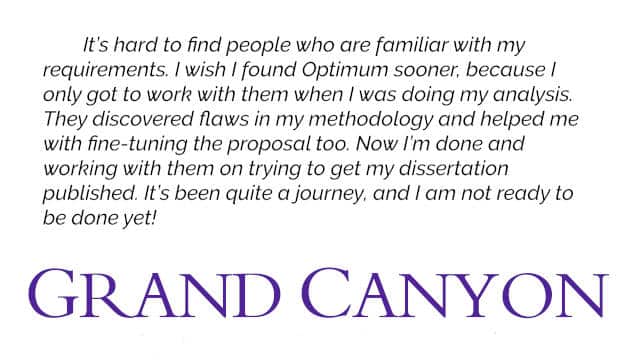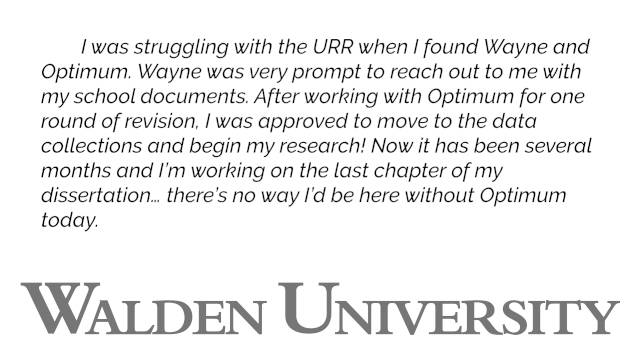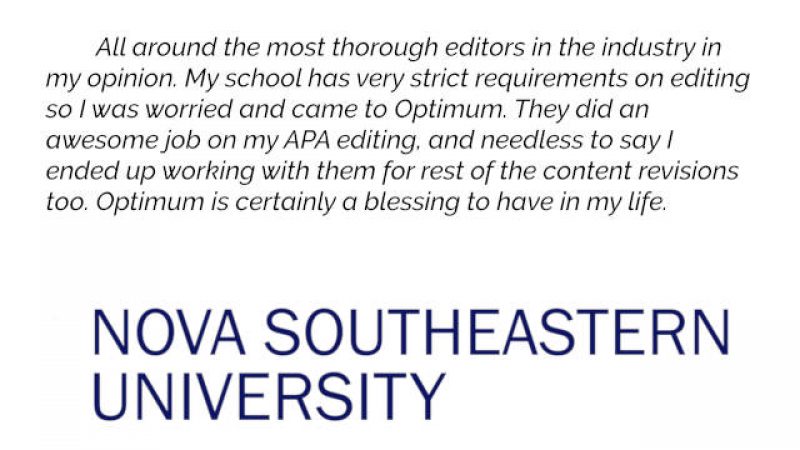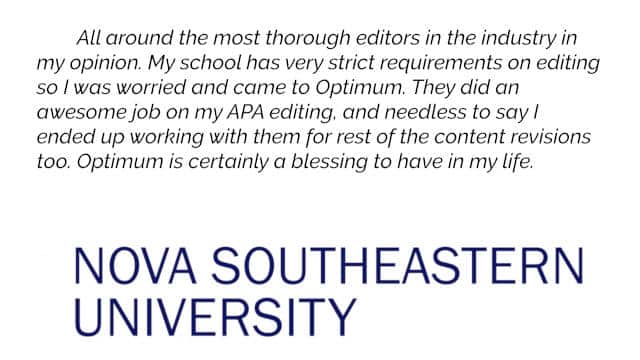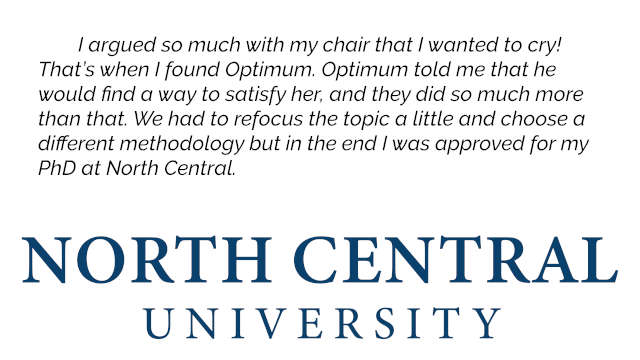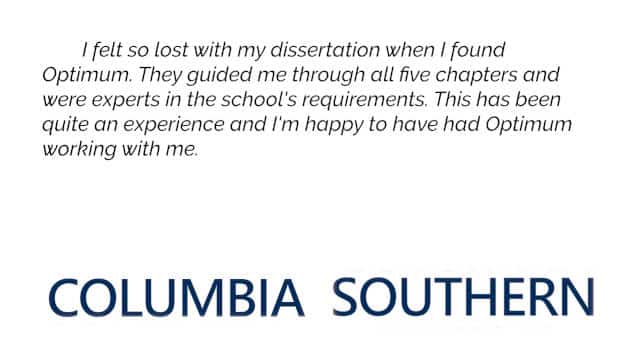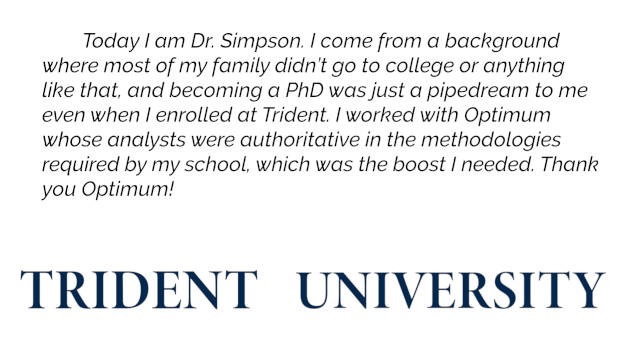 We also have consulting students when they have the unfortunate situation of a difficult reviewer. These difficulties can manifest themselves in many forms but our team will help you pushback so ensure you're treated fairly.
Our process
Optimum Research's help will always be tailored to your specific needs and with you until approval. We also use a non-disclosure agreement which makes our promise of discretion legally binding. We maintain high standards in all the work we provide. We find this approach to be the best. Happy clients make for a better experience all around. Optimum is always striving to maintain the highest standards for our assistance.
Non-disclosure agreement
Before Optimum receives any confidential information we send our clients a legally binding non-disclosure agreement. This helps the client feel secure that we are serious in our approach to privacy and the client's need for confidentiality. This aids in a more open and transparent relationship which is better for the client and enables us to fully assist in your academic journey.
Dedicated project manager.
Dedicated project managers are assigned to each client from the very beginning. They're typically chosen due to their experience in certain fields which often pertain directly to the client's needs. The project manager will help you understand the full dissertation process including areas where you might have issues. Project managers have extensive educational backgrounds and experience helping students navigate a difficult journey. This helps ensure the client's satisfaction. When students are unsure about their next steps, the project managers can and will provide guidance and direction.
Per-project pricing
The nature of our help will likely change over the course of your project depending on your current needs. People also have varying timelines and difficulties in finishing their dissertation. All of this necessitates a need for per-project quotes. This helps ensure that Optimum provides the level of help required by any specific client. You may find other services who quote on a per-page process without taking into account the specific requirements. We have found over the years that these services very often leave the student disappointed. Per-project quoting addresses this and helps clarify expectations and costs so that both parties are consistently content.
Dissertation assistance is where Optimum Research excels. If you have any questions or concerns feel free to contact us. Remember, we will provide you with a non-disclosure agreement before you give us any materials to review. You can always email us or simply give us a call at 984-222-7122 during business hours and someone will be happy to help. Give us a call today!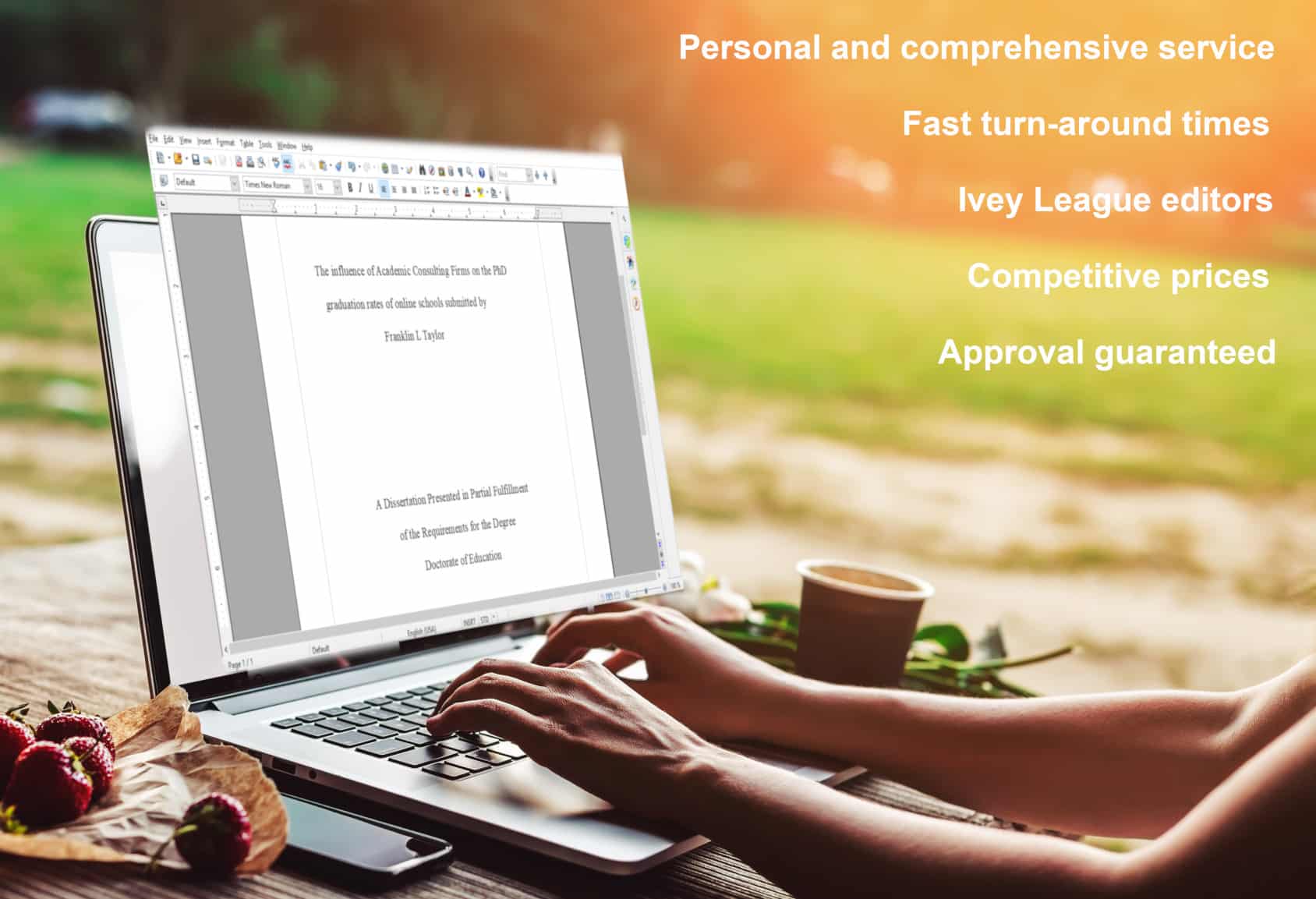 Optimum Research also provides personalized, 1-on-1 coaching for students who require an expert researcher to speak within their field, either in defining a focus for the dissertation or study directions. Our analysts and coaches have attended some of the most prestigious institutions. You will find their assistance invaluable as you meet your academic goals.
We operate by the strictest of rules of confidentiality. This is backed by our legally-binding Non-Disclosure Agreement which ensures a personalized and trusting  relationship.